Watch Cleaner
TIME TO SHINE
Designed for the simple and effective cleaning, care and polishing of high quality metal wristwatches and jewellery. Results in a hygienic and clean surface and is particularly effective. The Watch Cleaner is suitable for all metal wristwatches and jewellery and is particularly productive - just a few sprays are enough.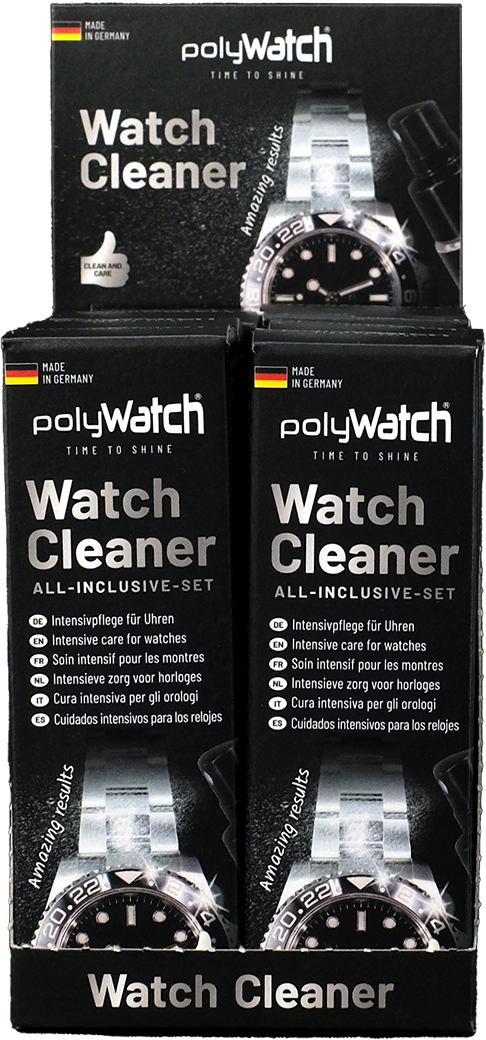 Watch Cleaner Kit contents:
30ml pump spray (solvent-free),

1 polishing cloth (white)

1 microfibre cloth (grey)

Step-by-Step instructions
1.
Take off the watch. Spray the Watch Cleaner from a distance of approx. 10 cm all around the watch band and, if necessary, the watch case. (approx. 3-4 sprays)
2.
After a brief application time of one to two minutes for normal soiling (and a maximum of 10 minutes for heavy soiling), clean the watch strap thoroughly with the enclosed polishing cloth (white). Afterwards, polish to a high shine finish using the microfibre cloth (grey). Repeat the polishing process if necessary.